Translate this page into:

doi:
10.25259/JISH_47_2021
'AAKAR-Story of Sculptures' – The experience of sculpting and its relevance to a homoeopath
Department of Organon and Homoeopathic Philosophy

,

Dr M L Dhawale Memorial Homoeopathic Institute, Palghar, Maharashtra

,

India
*
Corresponding author: Anand Ramchandra Kapse, Department of Organon and Homoeopathic Philosophy, Dr M L Dhawale Memorial Homoeopathic Institute, Palghar, Maharashtra, India. arkapse@gmail.com
Received: , Accepted: ,
© 2021 Published by Scientific Scholar on behalf of Journal of Integrated Standardized Homoeopathy
Licence
This is an open-access article distributed under the terms of the Creative Commons Attribution-Non Commercial-Share Alike 4.0 License, which allows others to remix, tweak, and build upon the work non-commercially, as long as the author is credited and the new creations are licensed under the identical terms.
How to cite this article: Kapse AR. 'AAKAR-Story of Sculptures' – The experience of sculpting and its relevance to a homoeopath. J Intgr Stand Homoeopathy 2021;4:142-3.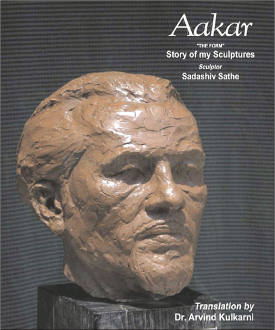 Title: AAKAR
Edition: 1st English Edition
Original Author: Shri Sadashiv Sathe
Translated (from Marathi): Dr. Arvind Kulkarni
Price: INR 225
INTRODUCTION
Shri Sadashiv Dattatray Sathe alias Bhau (17 May 1926–30 August 2021) was an internationally acclaimed sculptor. Statues of Mahatma Gandhi and Netaji Subhashchandra Bose in New Delhi, Shivaji Maharaj at the Gateway of India, Mumbai, Rani Laxmibai in Gwalior and Murarbaji Deshpande at Purandar Fort are some of his famous creations. We came in close contact with him and his wife, Netra, when he sculpted Dr. M L Dhawale's bust that adorns the entrance of MLD Trust Hospital at Palghar, Maharashtra, India.
THE BOOK
He was a thinking artist who has written an insightful book 'Aakar' on his experiences of creating various statues. The book has introduction by famous writer, S N. Pendse. The original book is written in Marathi By Shri Sadashiv Sathe and has 2 editions. The English translation of the book is done by Dr Arvind Kulkarni. It has 18 chapters starting with the formative years, education and struggle as a young budding artist till he bagged the assignment of sculpting the statue of Mahatma Gandhi opposite town hall in Delhi (which made him famous across India). The book then moves on to his experiences of creating various other statues, details of beautiful projects conceived but not executed, international projects, his transition from creating statues of famous people to formless, incorporeal creations (murtimant to amurta) and ending with reflections on the state of sculpture as an art in India.
His narration of process of creating Mahatma Gandhi's statue is fascinating. The efforts made by a young, jobless artist to bag the contract while competing with other famous senior established artists from across the India are worth reading. The process of creating the statue started with obtaining all the information about Gandhiji in terms of thousands of photographs showing multiple expressions from various angles, his writings and biographies, published news and articles, personal correspondence and interviews with people close to Gandhiji. Processing this voluminous data finally culminated into the formation of image of Gandhiji in his mind which captured the essence of Ganadhiji's philosophy and life. The small model got approval from the committee. Now came the technical part of enlarging it to 9 feet one, creating a plaster mould and finally casting the statue in bronze. All this while managing the timeline, logistics of transportation, finance, etc., not to speak of dealing with multiple and at times absurd suggestions from the committee members who had no understanding of art! The passion of the artist who immerses himself in the study of the subject to the point where he is transported him into a meditative trance emerges effectively. He has done full justice to the subtitle of the book.
RELEVANCE OF THE ARTISTIC PROCESS TO A HOMOEOPATH
A sculptor must capture the essence of the person and reflect it in his creation. A statue is a three-dimensional representation of the totality of the subject as perceived by the artist. What can a homoeopath learn from this book about the art and science of portrait making? Bhau Sathe emphasises on the trinity of creativity, technical expertise and business dealings which goes to form a successful artist. According to him, it is very difficult to describe the process or point of creation. When the essence fills the mind with a certain intensity, a spontaneous artistic creation occurs. It many times defies the conventional norms, or the rules taught in the colleges of Fine Art. Maybe it occurs at subconscious level. Mastery over technique develops through hard work, in-depth study and years of experience. Sculpture is a costly piece of art. Hence, a sculptor must become proficient in business dealings.
Is the process of creating a 'portrait of the patient' any different for a homoeopath? Don't we follow the steps of data receiving and recording, subject it to analysis and evaluation so that we can synthesise the totality capturing the essence and evolution? Are our stalwarts such as Kent, Tyler, Whitmont and M. L. Dhawale who gave us living remedy portraits not artists 'par excellence?'
Homoeopathy, however, is a science as well as an art. Dr. Hahnemann has asked us to be an unprejudiced observer. The sculptor, however, is free to stand on his subjectivity and represent the essence from his standpoint.
CONCLUSION
The book is a testimony to 'Sadhana' by an artist who led a life of dedication, integrity and professional pride but conducted himself with humility. He refused to compromise with his creativity for commercial gains and achieved excellence in his field. Mr. Sathe was diminutive in stature; the book portrays a veritable giant in the world of visual arts!
His wife, Mrs. Netra, was also an internationally acclaimed painter pioneered painting in Cold Ceramic medium and painted colourful lives of Rajasthani women. Incidentally, she had given a live demonstration of portrait making at Palghar with Dr. Kumar Dhawale as a subject. Both, husband and wife, were believers in homoeopathy as they benefitted from it as patients. We offer homage to both – they touched our lives.
Declaration of patient consent
Patient's consent not required as there are no patients in this study.
Financial support and sponsorship
Nil.
Conflicts of interest
There are no conflicts of interest.
Show Sections