Translate this page into:

doi:
10.25259/JISH_60_2022
Repercussion of physician's prejudice sensitivity while perceiving man in disease: A case report
1
Life Care Homoeopathy

,

Tarangan CHS, Kalyan, Maharashtra

,

India
*
Corresponding author: Dr. Manoj Kishor Patil, Life Care Homoeopathy Tarangan CHS, Kalyan, Maharashtra, India. drmanojicr@gmail.com
Received: , Accepted: ,
© 2023 Published by Scientific Scholar on behalf of Journal of Integrated Standardized Homoeopathy
Licence
This is an open-access article distributed under the terms of the Creative Commons Attribution-Non Commercial-Share Alike 4.0 License, which allows others to remix, transform, and build upon the work non-commercially, as long as the author is credited and the new creations are licensed under the identical terms.
How to cite this article: Patil MK. Repercussion of physician's prejudice sensitivity while perceiving man in disease: A case report. J Intgr Stand Homoeopathy 2023;6:73-8.
Abstract
Right perceiving is the most essential, but challenging task, especially in homoeopathic practice. Sensitivity, empathy, capacity for resolution and an idealistic bend of mind are essential qualities required for right perceiving. This manuscript is an attempt to demonstrate the impact of physicians' prejudice and sensitivity while perceiving man in disease through the process of clinical session evaluation form to recognise the biases of physicians to travel towards objectivity from subjectivity.
Keywords
Perceiving
Case taking
Homoeopathy
INTRODUCTION
Precision in perceiving is an indispensable thing for every physician; all his actions depend on it. Understanding the mind plays a central role in homoeopathy, so investing in the mind also poses the biggest challenge to homoeopathy.[1] The physician can see only what he knows, therefore remedy what physician does not know he cannot see in the patient. The physician, thus, records only those impressions to which he has been sensitised.[2] Most of the time physicians observe the facts which they support or sometimes they do not even try to observe due to their unconscious bias. The fact or the symptoms which do not support the physician's concept can be overlooked or escaped in the observation and facts can get neglected. Every physician comes across such experience in the practice; however, the awareness about this may or may not be present. Awareness helps the physician to perceive with objectivity, whereas unawareness brings in subjectivity.
Dr. Samuel Hahnemann emphasises the futility of transcendental speculations, stating that diseases communicate through signs and symptoms.[3] To avoid empty theories, it is crucial to pay attention to the body's language. Prejudices impact practice in determining curable and incurable diseases, diagnosing patients, selecting remedies, potency, repetition and case management.[3,4]
Many homoeopathic pioneers have emphasised the concept of an unprejudiced observer, but no one has systematically demonstrated the process or methodology for achieving this state, except Dr. M. L. Dhawale – who specifically emphasised on the process of perceiving man in disease in Hahnemannian totality by looking into the self. A physician's receptivity depends on his sensitivity, both qualitative and quantitative.[5] Awareness of one's prejudices is the best way to diminish the force of prejudices and it demands both refined sensitivity and balanced sensibility to perceive suffering or pathos. The physician can perceive the imbalance in the patient only when he is himself in balance. To develop balance in physicians, Dr. M. L. Dhawale introduced a tool known as the 'Clinical Session Evaluation Form (CSEF)'[5] which guides the physician to travel towards objectivity from subjectivity – by evaluating one's own internal state during the clinical interview. The main objective of this tool is to evaluate the interview and physician in terms of his sensitivity, sensibility, knowledge, technical skills and blocks. It also evaluates the technique and methods adopted by physicians for their interpretation and correlation for the formulation of problem definition and resolution. At the end of the analysis, it becomes possible for a physician to discover himself and his prejudices on the journey of becoming the unprejudiced observer.[6,7]
This case report is an attempt to demonstrate the process of perceiving man in disease and while doing that also reflect on one's own prejudices with the help of the analytical tool CSEF.
CASE REPORT
A 58-year-old male, hailing from the Marawari Jain community, working as Chief accounts officer of a central government telecom company came for consultation with complaints of:
Gradual onset of severe itching with an erythematous rash all over the body in the past 1 year. Rash with wheals++ appears gradually disappears gradually. It occurs daily and is present all through the night. Complaints are < 9 PM onwards+++ and are > cold air (AC) +++. He has been taking antihistamine tablet daily for 1 year, without much relief.
Physical generals
Appearance: Stocky, average built, well dressed and systematically presented

Craving: Sweet +++

Stool: Unsatisfactory on and off

Skin: Multiple small cherry warts on body

Thermal: Hot++

Family history: Mother: Type II DM
Life space
A stocky man with dark black hair, born in Rajasthan, was raised in a lower middle-class family. He was intelligent and diligent in school, achieving the first rank in maths and logic. Childhood was peaceful. He was attached to his mother and enjoyed his childhood by accepting the existing circumstances. After graduation, he was selected for a junior assistant account officer position at a government telecom company in Mumbai.
As he progressed in his career, he got promoted to chief account officer in the Mumbai division of his company. He described that the current scenario of his organisation was stressful as numerous officers were taking voluntary retirement (VR) due to the decline of the operations and worsening matters of the organisation. It was also burdensome as with a shortage of staff, senior officers were getting the charge of five additional people at a time. This situation has led to more discontent and there are increased requests for VR at both senior officer and director levels, disrupting organisation operations. However, the patient was quite stable emotionally unlike other employees. He was meticulous and perfect in his work and, hence, was easily trusted by his senior. He was very confident in identifying and rectifying errors in the entire accounts department. He was often viewed as a dominating person due to their work abilities by his colleagues. His passion for work drives him. He feels that he has immense power and he feels like a king when he is at work. Every day he does online transactions accounting to about 10–20 crores on behalf of his organisation without any anxiety. He was very conscientious and well-versed in law and regulation. He never sanctions manipulated or fraudulent bills/tenders, he meticulously and honestly cross-examines, every minute detail so no one can manipulate things or bribe him. Honest officers feel secure, while corrupt officers were scared of him. He gets angry easily if his subordinates or colleagues fail to work as per his standards. Hence, all his colleagues feel that he is dominating and egoistic. His both sons are well-educated and he has a happy and comfortable family life. He enjoys work, and likes to spend his spare time with his family. He rarely participates in community events.
Physical examination: PR: 78/min, BP: 148/80, Wt: 67 kg
On examination skin: Erythematous, slightly elevated papules (Wheals).
Case processing
Totality: Repertorisation done from synthesis repertory used through Radar software mentioned in [Figure 1].
Remedy differentiation
There were three remedies, Lyco, Sulphur and Nat Mur, that come closely after repertorisation. Nat Mur is sensitive and driven by emotion, while Lyco is strong-willed and intellectually driven so his emotions are well controlled and it makes him confident. Lyco is a perfectionist and has a standard to maintain, also has the same expectation from others and when this is not forthcoming it creates antagonism in others through contradiction intolerance. Lyco is noncommunicable at an emotional level and communicative only at the intellectual level, his only attachment to the area of his work and success orient action.[7,8] While Nat Mur is more communicable at an emotional level and intolerance of contradiction is a reaction against the hurt they have received, as a protective mechanism. Sulphur is another close intellectual personality similar to Lycopodium, but Sulphur's intelligence expresses through his knowledge and his ability of theorising and reasoning in his life.[9] Lycopodium presents himself systematically in terms of appearance and mannerism, while sulphur is indifferent to his personal appearance. At a physical level, Lycopodium is closer than the rest of the remedies in terms of sweet craving, evening aggravation, better in cold air and unsatisfactory stool.
Remedy selection
Considering the dispositional qualities, appearance and mannerism of presentation and general modalities of skin indicated Lycopodium seemed to be suitable similimum.
Lycopodium 200C single dose was given on February 15, 2013.
The remedy response is mentioned in [Figure 2].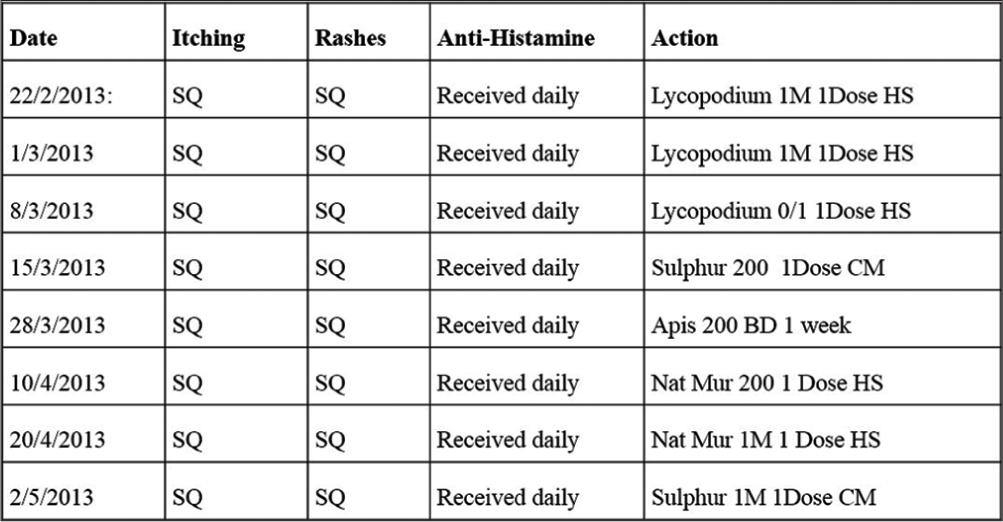 The patient did not respond to sulphur 1M and he stopped homoeopathic treatment. He visited a local physician, who administered injectable steroids, thereby suppressing his itching and rashes immediately but developed bronchitis. The cough was accompanied by tough and stringy expectoration, which was difficult to hawk. He had been receiving allopathic treatment for 6 months without relief. Hence, he again approached for homoeopathic treatment on February 14, 2014. While revisiting totality, it was observed that he had similar gestures and mannerism, expressing sentimentality and attachment towards his 80-year-old mother. Mother was facing on and off health-related issues that made him disturbed, even though his younger brother was with her to take care of her. He was internally anxious but controlled easily, causing no noticeable disturbance.
Analysis
In the new form of the disease, factual data were available in the form of characteristic causative modalities, one characteristic particular and general symptoms demands a key note approach.
Remedy differentiation
The general skin modalities (cold air >) ruled out the Bryonia and Causticum. Tough stringy discharges are characteristic symptoms of Kali Bich, whereas Bryonia has marked scanty expectoration.
Kali Bich 200 single dose reduced the cough and expectoration by 80–90% and severe itching and rashes reappeared. Placebo had been given in further course of treatment and over a period of 2 weeks his rashes and itching also disappeared.
Kali Bich: The similarities and dissimilarities of Kali Bich with Lycopodium are mentioned in [Figure 5].
Kali bichromicum
Kali bichromicum is the frequently prescribed medicine in day-to-day practice on physical characteristics, but less explored on the mental plane to prescribe as a constitutional remedy. Kali bichromicum personality mainly evolves through the background of poor economy, parental conflicts, and strong attachment towards parents as a result person becomes responsible, conscientious with high moral. In addition to it, a person is very much sensitive and attached to parents – so to fulfil their expectations; a person sets his goal accordingly neglecting his own desires/ emotions.[8-10] Basic nature gets moulded according to situations and circumstances demands; so, they become responsible, hard worker and perfectionist and shows resilience and tenacity in their nature. As the person grows, he takes on more and more responsibility. Kali Bich life revolves around his family and relationships drive him in life, but his expressions are well controlled.[10] They become anxious about their family's health and their betterment. Bichromicum provides strength to cope with his emotions adequately so that their emotions are never externalised. They are people, by nature, who are closed and very conscientious and capable and usually rather conservative. They are well-disciplined and particular in their work.[10,11]
Clinical session evaluation
Interview technique
Exploring: Work area only

Interpreting

Questioning

Listing.
Adequacy of interview
The relationship with the mother and brother was not adequately explored

Attachment to mother and anxiety for mother was missed, to begin with.
Problem formulation
Recording: LSMC recorded adequately

Complaint diagnosis: Chronic urticaria

Person diagnosis: Dictatorial, intellectual, confident, conscientious, and perfectionist.
Problem resolution
Formulated chronic totality for chronic remedy.
Patient-physician relationship
Senior and junior

Authority and subordinate.
Sensitivity of physician
Quantitative: High

Qualitative: Emotional and sensitive to strictness and domination, fear of authority.
The physician may aspire for similar intellectual qualities of the patient in himself and be impressed with the intellectual qualities of the patient; hence, he addressed and fixed to emotional qualities of the patient such as domination, egotism and anger contradiction represented first in the hierarchy in totality which is out of high sensitivity of physician to domination and authority.
Sensibility
The physician heightened sensitivity to domination, did not allow him to discriminate the domination and egotism from discipline and meticulousness of patient. Fixed on intellectual and domination failed to explore the patient's attachment to the mother.
Concept of physician
Discipline is domination; hence, discipline is perceived as domination and egotism.

All efficient individuals are dominating and egoistic.
Block
Sensitive to strictness and domination, rejection to discipline and fear of authority.
Prejudices
Efficient and intellectual individuals are dominated and egoistic.

Perfection without discipline

All intellectual individuals are non-sentimental.
DISCUSSION
This case report's purpose was to demonstrate the utility of CSEF to share a methodology and technique to achieve freedom from prejudices while perceiving totality. This tool acted as a navigator while perceiving man in disease. It acted as a bridge between actuality and expectation so that it was easy to travel towards actuality by minimising obstacles of own biases. CSEF is a learning tool, which helps the physician to assess his own prejudices. It ensures that we develop objectivity in what actions we take and why we take them.
In this case, the CSEF tool revealed the selective exploration of areas in life space and some dispositional qualities such as dictatorial, intellectual, confident, conscientious and perfectionist derived as problem definitions out of influence of the patient. It also revealed the qualities and concept of the physician who was sensitive to strictness and domination. The physician addressed the intellectual qualities of the patient but vibrated with the emotional expression of patient interpreted as domination, egotism and anger contradiction; hence, it was represented first in the hierarchy in totality. The certain concepts of physicians about individuals who are efficient and intellectual are usually dominating and egoistic, due to which the person who was actually disciplined and meticulous was perceived as dominating and egoistic. The physician heightened sensitivity to domination and authority did not allow him to identify the discipline and sentimentality in patient. Patient physician relationship was established as senior versus junior and authority versus subordinate which was revealed through the sensitivity and concept of physician.
After reviewing the case, suppression of skin eruption, tough, stringy discharges and attachment for mother were indicators for entry point to understand the portrait of disease. He could have been saved from chronic bronchitis, if initially physician could have been able to discriminate his subjectivity might be guided him towards objectivity and Kali Bich would be the first prescription. However, physician high sensitivity did not allow him to discriminate actuality from subjectivity represented through the actions of physician who used a series of remedies.
CONCLUSION
CSEF tool is a structured tool, which acts as a mirror for a physician who dares to look into themselves. It helps physicians to be aware of their own concepts, personality and capacity of discrimination through the systematic introspection of clinical interview. Awareness about own sensitivity and sensibility facilitates the freedom from biases which provides insight for balance perceiving while travelling from subjectivity to objectivity.
Declaration of patient consent
Patient's consent not required as there are no patients in this study.
Conflicts of interest
There are no conflicts of interest.
Use of artificial intelligence (AI)-assisted technology for manuscript preparation
The author(s) confirms that there was no use of artificial intelligence (AI)-assisted technology for assisting in the writing or editing of the manuscript and no images were manipulated using the AI.
Financial support and sponsorship
Show Sections